Blog
How To Protect YOUR Kid Online | Internet Safety (For Parents)
Dec 03, 2021  by Toktabek, Tim
Parents work hard towards creating a safe environment for their children to flourish in. However, when the online world is introduced to children, keeping your child safe is quite challenging. As a parent, you need to know the measures you should take when dealing with the digital space.
Surrounded By The Web.
With high-speed broadband internet covering the globe over the last few decades, it is now present and used by all smart devices in the household. This includes laptops, smartphones, tablets, gaming systems, smart TVs, and many more. Such technology strives to make humanity more connected, but malicious activity and bad actors are present to make it a field of potential threat. Although most people take precautions and can spot malicious activity, children haven't been exposed to the dark side of the web, making them a vulnerable target.
Awareness Of Online Dangers
Parents aren't as tech-savvy as their children regarding the latest technology, sites, or apps. However, they should make the effort to be aware of how it's all used. For example, if parents don't use social media, they should know how it works to understand how their children use it.
The major mistake parents make is taking a blind eye towards their children using technology. Either because they believe their children won't do inappropriate things or that they aren't educated enough about technology. Unfortunately, there are countless dangers in allowing children to be online without guidance.
Social Media | The Heaven Of Malicious Activity
Social media platforms like Facebook or Twitter, for instance, tend to be a source of information for individuals with malicious intent online. For instance, they might impersonate others, to get sensitive data – addresses, bank accounts and credit card credentials.
Photos can be used to track your whereabouts and find a pattern of when you're home or not, or user accounts can be hijacked to send phishing emails, malware, or false information to your contacts. Our information—and our children's information—are available to family and friends. Unfortunately, it's also potentially available to cyberbullies, online criminals, stalkers, and trolls.
Malicious Activity Parents Should Be Aware Of
Information and Image Sharing
Children often don't understand the danger of posting information online. These days, almost every teen carries a device with a camera and video abilities, making it quite easy to capture and immediately share every experience without the time for proper decision making.
Malware
Malware is a general term for a broad range of malicious programs. Kids, not recognizing the dangers of malware, might be drawn in by free downloads, spam pop-ups, emotional stories and "imposter"/ fake websites that infect your computer.
Phishing
Phishing is a method of trying to steal a user's personal information using deceptive emails or websites. Some studies estimate that nearly 40% of incoming email is spam. Although email filtering software over the past few years has reduced this risk by as much as 85%, kids are easy prey for this type of attack. Without proper knowledge of how phishing works, children could expose private and financial information within minutes.
Freebies
What child would ignore a promise of a free trip to Disneyland, or other eye-catching and jaw-dropping scam freebies? In the last little while, downloading free games or ringtones are also other creative frauds that are used. Just by opening a single link and answering a few questions, kids could leave their devices potentially exposed to security threats.
Games
Virtual gaming allows players across the world to engage, but the fun comes with the risk of spyware–infested, peer-to-peer (P2P) file-sharing.
Cyberbullying
Fewer topics have gained as much public attention in recent years, yet the problem of cyberbullying remains rampant on social media and messaging platforms.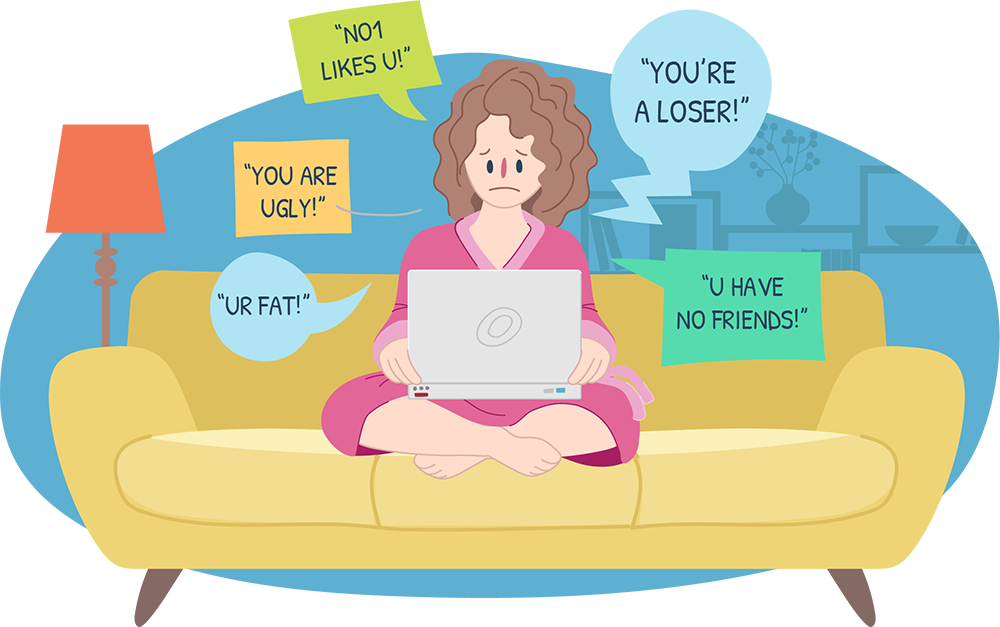 Here are a few methods of cyberbullying that you may notice happening online:
Sending mean texts or IMs to someone.
Pranking someone's cell phone.
Hacking into someone's gaming or social networking profile.
Being rude or mean to someone in an online game.
Spreading secrets or rumours about people online.
Pretending to be someone else to spread hurtful messages online.
Cyberbullying is a growing concern for children's health and security and shouldn't be overlooked. Kids that experience cyberbullying are at risk of developing physical, emotional, and psychological scars that can last a lifetime.
Victim of CyberBullying?
Visit https://www.bullyingcanada.ca/get-help/ (Canada) or https://www.stopbullying.gov/ (USA), or other local non-profits to seek professional help.
What Steps Should Parents Take to Foster Safety Online
Downloads are high-risk for malware. Ask your children to come to you with download requests, so you can scan them first with security software.
Knowing your children's passwords can be vital to their safety. Let your children know that you will review their browsing history and social media profiles. Transparency is a great incentive for safe internet practices.
Be sure your wireless network has strong security settings and a good password to deter in-network attacks.
If you see unfamiliar or suspicious connections on your child's email or social media profiles, delete them.
Use content blocking software and websites that filter adult content, malware, viruses, scams and phishing.
Limit file sharing: Games are a doorway to file sharing, and file sharing is a doorway to malware. Know what's being shared and manage settings to prevent unauthorized access to private information.
How The Mercku App Kept Online Safety In Mind For Your Children
Mercku devices come loaded with safety features to help you be in control of your network. Mercku M2 and M6 Series devices have advanced capabilities to make your network safer with just a few clicks.
Time Limit
The Mercku App for iOS and Android provides parental control options include a setting for scheduling time parameters. This means you can schedule the network to be running at certain desired times of the day.
It includes scheduling for specific devices and locations, so you can choose to set parameters on certain devices or areas of your house. For example, you can choose to set time parameters on your child's laptop, tablet or gaming console and disconnect it from the internet at 8 p.m. every weekday. If you want to set a certain sleep schedule for your family, this can come in handy as well.
Rate Limit
Rate limiting is used to control the amount of incoming and outgoing traffic to or from a network. For example, let's say your child is working on a homework assignment that is configured to allow 100/ request a minute. If you set a limit at 100 or maybe 200, then if your child does any activity exceeding the limit of requests, an error will be triggered. For example, playing video games or watching Netflix requires a lot more requests than doing a homework assignment on google docs. Therefore, by setting a limit, you can limit them to only being able to do their homework and not play games or watch TV.
Website Blocklist
In addition to the 2 parental parameters mentioned above, the Mercku App allows parents to block certain websites and URLs. Whether it be websites like YouTube, Netflix, or some inappropriate sites, you can block them from being accessed. With this in your arsenal, you can rest assured your children are safe.
Being a parent isn't always fun or easy. But for the sake of your kids, it is important to take the time and effort to understand online threats, and then establish boundaries, evaluate solutions, and put controls into place. All solutions at Mercku work seamlessly with the Mercku App to provide you with a blanket of care, and freedom from the threats and issues of the online world.
Want to learn more about WiFi Security? Check out our latest blog! Read our lastest blog on Importance of WIFI Security – How YOU Can Prevent Online Attacks for ultimate WiFi mastery.
For more information about Mercku's Connectivity Suite, our hardware and how you can partner with Mercku, please reach out to the team at connect@mercku.com.
Thank you for reading our blog! Mercku Blogs covers the latest in wireless technology – subscribe to our newsletter to make sure you don't miss our newest releases!
Let's build the future, together.
Let us get in touch with you to explore how Mercku can help
your organization win the market