Blog
Standardizing Smart Homes: A Major Challenge | Smart-Home-as-a-Service Series
Mar 24, 2022  by Toktabek, Tim
Standardizing Smart Homes: A Major Challenge 
Standardization presents a major challenge for the advancement of the smart home market. A multitude of players, from telcos to internet giants, appliances manufacturers, and security service providers populate the smart home industry, each having its products and technologies.  
Although these devices are designed to work as part of a network, they mostly communicate through different standards.
Because of the huge IoT market and the sheer number of industries involved, products are developed according to different standards and are therefore unable to communicate with each other effectively.  
Standardizing Smart Homes: The Proposed Solution 
Several initiatives have been developed to tackle the current interoperability constraints. This is the case with Matter, previously known as Connected Home over IP (CHIP) – a partnership between Google, Amazon, Samsung, Apple, and others. 
Matter is a unified IP-based connectivity protocol, and it will run on Ethernet, Wi-Fi, Thread, and BLE. Matter aims at achieving interoperability between smart devices, making life easier for manufacturers and consumers alike.  
For example, If Matter is widely adopted, your Alexa would be able to control even your Google's Nest smoke alarm or any of the devices from the manufacturers that have adopted Matter. As soon as products with the seal of Matter reach the shelves, assembling your smart home will be considerably easier. However, the problem of having several wireless standards continues. 
 Source: Mercku Smart Home as a Service Ebook    
Understanding The Different Wireless Standards 
By now you've probably heard of these terms several times, but what do all these standards have in common and what are their differences?  
ZigBee, BLE, Z-Wave, and Thread are all low-power, short-range connectivity solutions mainly used to operate on IoT devices such as voice assistants, smart thermostats, or smart security systems.   
However, all these standards have their benefits, and choosing one over the other can result in the success or failure of an application.  
So, when developing a new IoT application, one of the first questions the developer has is: Which wireless protocol is the best?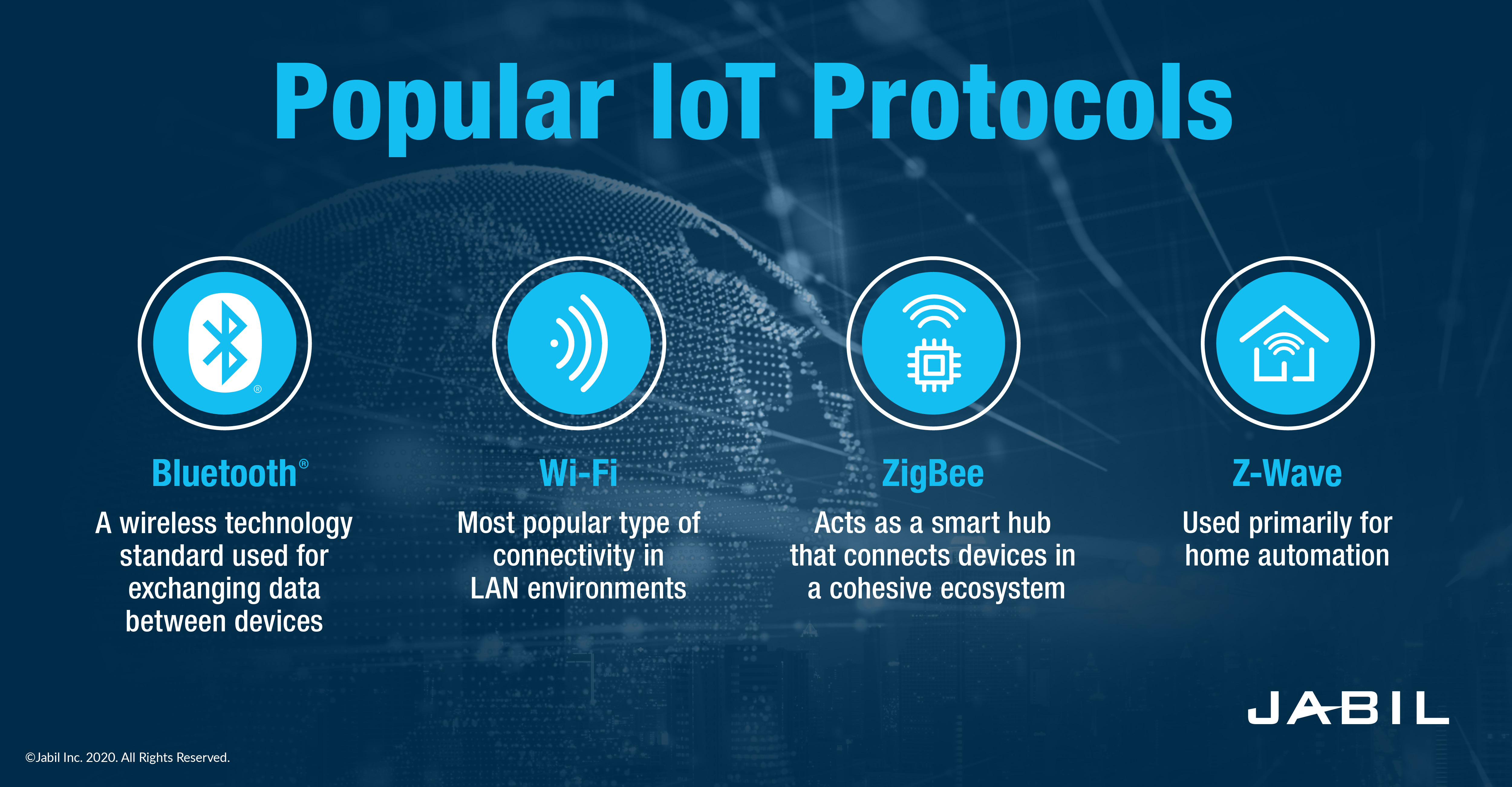 Source: Jabil
ZigBee 
Zigbee was designed for home and industrial automation. This wireless protocol allows users to create a self-forming and self-healing mesh network of connected devices. It connects multiple ZigBee devices on the same network with each other automatically and it can build a network of up to 65,000 devices.  
Like Wi-Fi, this protocol operates on the 2.4GHz band and requires a hub or router to control it. ZigBee allows for a flexible duty cycle, short-range, and low data rates, all of which contribute to low energy consumption and efficiency. 
Bluetooth Low Energy (BLE)  
Most commonly used for transmitting sensor data, Bluetooth Low Energy (BLE) is a low power consumption protocol, primarily used on applications that only need to exchange small amounts of data, (e.g., Fitbit's wearable fitness tracking).  
Applications using BLE are mostly powered by a small coin cell battery, thanks to the low power consumption of this protocol.  
Since BLE is supported by both smartphones and tablets alike, it is perfect in use-cases that need to interface with mobile apps. BLE supports mesh networks of over 32,000 devices, which is impressive, and it uses the 2.4GHz band. 
Thread  
Thread is an IPv6-based mesh network protocol, which, just like Wi-Fi, can communicate to the internet via the Internet Protocol (IP). This protocol is a 6LoWPAN technology that makes it possible for all Thread devices to communicate with each other even if they are manufactured by different companies. 
Like ZigBee, Thread is also a self-healing network that supports up to 300 devices on the 2.4GHz band. A router is responsible for bridging the data from Thread devices and the Internet.   
Z-Wave 
Unlike ZigBee, BLE, or Thread, which use the 2.4 GHz band, Z-Wave runs on a sub-1GHz band. Because it runs on a lower frequency, this standard has an increased range and less interference.  
On the downside, it also means that Z-Wave's data transmission speed is slower than that of the other mentioned standards. This protocol supports a maximum of 232 devices nodes in its network and it requires a separate hub.  
Thanks for reading! This article is an excerpt from Mercku's Smart Home as a Service EBook – our expert-written, top-level overview of the ins and outs of the Smart Home industry.

Want to learn more about WiFi instead? Our team of experts has put together an eBook that explores the past, present and future of WiFi! Read our WiFi: The Definitive Guide eBook for ultimate WiFi mastery.
For more information about Mercku's Connectivity Suite, our hardware and how you can partner with Mercku, please reach out to the team at connect@mercku.com.
Thank you for reading our blog! Mercku Blogs covers the latest in wireless technology – subscribe to our newsletter to make sure you don't miss our newest releases!
Let's build the future, together.
Let us get in touch with you to explore how Mercku can help
your organization win the market